Our MyFit Underwear PDF Pattern is the answer to your ill fitting underwear problems. The MyFit Underwear program utilizes your actual body measurements to create a pattern that will fit you just right. By customizing how we take our measurements, you can have perfectly fitting underwear throughout pregnancy. To get the best fit for your maternity underwear, let's take an in depth look at measuring for the MyFit Underwear while pregnant.  The MyFit Underwear has multiple waistband options that can be used to get just the fit you are looking for.  For all waistband options the waist will be defined as: Waist: The waist measurement...
---
My daughter loves dresses-especially when they twirl. She also loves it when I make her clothes and I really like doing it-she is so gratifying to sew for, the excitement she feels is contagious and rewarding.  The add a circle skirt to anything generator is one of my favorite things we offer because it is so versatile and I don't have to do any of the figuring. For her dress I started with the MyFit Tee. I took all of her measurements and decided I wanted her skirt to start at her waist. For the full height measurement I entered...
---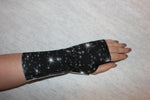 One of my favorite things about the MyFit Patterns is how customizable they are. I set out to use the MyFit leggings pattern to make a custom wrist sleeve. I often need to wear a wrist brace and having a sleeve on underneath is a great way to protect my nerves and skin.   I started off taking some measurements of my hand and arm. I thought that the rise part of the leggings would work well in the valley between my forefinger and thumb.  The "waist" measurement is taken at the knuckle at the bottom of the finger. Marked...